ARU SEIXAL | URBAN REHABILITATION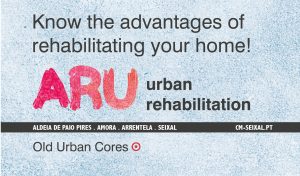 Already know the Urban Rehabilitation Area of Seixal?
If your dwelling is included in this defined area of Seixal, know that you have more benefits when rehabilitating:

- IMI exemption up to 5 years;
- IMT exemption;
- Exemption of municipal fees for the constitution of horizontal property, occupation of public space due to works and inspections;
- 50% reduction in other administrative fees charged by the city council;
- Access to support and tax incentives for urban rehabilitation, regarding to IVA (reduction from 23% to 6%), IRS and IRC.

See all the information in the page of the Seixal City Council

And count on our help to put your ideas into practice !!